For the moment, Blue Cradle has no regular operational funding and therefore relies on grants and donations. Our team is mostly composed of generous volunteers to whom we are grateful. Some contracts may be awarded to professionals for specific tasks, and in the future, Blue Cradle aims to employ part-time and ideally permanent staff. This is work in development and subject to funding.
James Nikitine - Executive Director (part-time)
Originally from near Geneva, James is French/British with a Russian background. As he founded Blue Cradle in 2020, James is naturally the main driving force behind the nonprofit. From administration, to accounting, branding, strategy, legal, communications and fundraising, James is responsible for all daily management aspects of the Foundation. He has extensive experience working in the nonprofit sectors in Geneva and Oxford, in peace-building, sustainability and climate change related organisations. He holds an MSc in Marine Systems and Policies from the University of Edinburgh and a BA in Film Studies from the University of Exeter. In future, James' goal is to split his current workload and busy role into several Blue Cradle roles, essentially forming a team with distinct responsibilities. James is actively in search of operational funding for the Blue Cradle Foundation to become financially sustainable.
Sarah Bishop - Education Lead (part-time)
Sarah has 23 years of experience teaching Science and Biology worldwide. She spent 15 years in the UK, Mozambique, and Australia, leading Biology departments in high-performing London and Melbourne schools. In 2012 she founded the Marine Megafauna Foundation's flagship Ocean Guardians education programme in Mozambique. This integrated marine conservation, swimming and water safety programme teaches children to understand and cherish their ocean. Recognised by the Inhambane Provincial Government and a UNESCO Green School, over 4000 children have graduated so far, as it thrives and grows under the guidance of local instructors. Sarah returned home to Ōtautahi in 2017 and spent five years as a teacher and dean at St Andrew's College before joining Blue Cradle. Sarah believes in working daily to connect with ourselves and nature.
Natasha S. McIntosh - Project Coordinator (part-time)
Natasha McIntosh is an American expatriate who has spent over a decade in Australia and Aotearoa. After completing her Master's in Environmental Science from James Cook University, Natasha worked with a variety of stakeholders in Australia to understand community connection to the environment. She is a firm believer that a "whole system" approach to conservation, which includes the needs of the people as well as the needs of the ecosystem, is the only way to reach long term sustainability goals. Without understanding and personal connection to the environment, we can never gain the support of the people that live on the land. Professionally, Natasha has worked with Indigenous, Commercial and Recreational fishery stakeholders with additional experience in community outreach and education. At home her goals are getting her children as dirty as possible and photographing their adventures.
Phillipe Gerbeaux - Project Lead (part-time)
Philippe has been a key member of central government programmes to effectively protect, manage and monitor New Zealand wetlands. He has served on technical advisory groups, science advisory panels and was the Oceania representative on the Science and Technical Review Panel of the Ramsar Convention for two terms. He chaired the steering committee for the organisation of the 11th INTECOL Wetlands Conference held in Christchurch in October 2021. He also played a central role in setting up the IUCN Regional Office for Oceania in Suva, Fiji where between 2006 and 2009, he was seconded as Chief Technical Advisor. Since 1983, he has regularly been involved in surveys of freshwater fauna throughout the Pacific Islands in collaboration with the Paris-based French National Natural History Museum. Before joining the Department of Conservation in 1995, Philippe worked for DSIR Hydrology Centre and NIWA (as a periphyton ecologist). He has been a member of several professional organisations, including the New Zealand Freshwater Sciences Society, the French Ichthyological Society, and the Society of Wetland Scientists.
Shinae Montie - Antarctic & Penguin Lead
Shinae Montie is from Ōtautahi, Christchurch. She is a Coastal Marine Ecology PhD candidate at the University of Canterbury and a Communications Assistant at the Antarctic Heritage Trust. Shinae recently completed her Postgraduate Certificate and Masters in Antarctic Studies (Distinction) where she used GIS and remote sensing to analyse Southern Ocean Phytoplankton dynamics in response to extreme Marine Heatwaves. Her PhD research has followed a similar path and uses a combination of field based and laboratory experiments, and remote sensing to better understand the effects of climate change and marine heatwaves on coastal marine ecosystems. Specifically, kelp forests and seagrass meadows in New Zealand and Australia. Alongside Blue Cradle, Shinae is an international council member for the Association of Polar Early Career Scientists (APECS) and co-producer of the podcast Antarctica Unfrozen. As a volunteer collaborator to project Blue Cradle, Shinae is excited to support  science, community outreach and education, and be a hands-on contributor to conservation efforts.
Antony Vavia - South Pacific Islands Strategic Advisor
Antony Vavia is a Cook Islands and Fijian based in Auckland. He is a PhD Candidate at the Auckland University of Technology focusing on Pacific Island coastal reef fisheries. Due to the lack of published scientific marine data in the South Pacific, Antony is currently exploring how to ensure long-term sustainability of coral reef fisheries in the Cook Islands by doing a case study on the island of Mitiaro. The focus of this research is on the ecological integrity of coral reef ecosystems which are intrinsically linked to the nutritional and cultural wellbeing of Pacific Islanders surrounding ocean-dependence, and ecological and cultural sustenance in the Pacific. Besides his studies, he is also a co-founder for Te Ngaru Tu O Nukuroa, a new NGO that aims to develop the island of Mitiaro through improved environmental conservation and rehabilitation efforts
Peter Wells - Project Officer (currently in Europe)​
Peter Wells is a Seattle native, and is currently based in the UK. With backgrounds in arts, anthropology, and permaculture design, he specializes in public food forests and has spent the last 3 years creating the Ōtākaro Orchard hub for local food in central Christchurch. Alongside Blue Cradle he assists with projects in the Ōtākaro Avon River Corridor, and governance for the Soil & Health Association and Kiwiburn. He holds a Bachelor of Arts in Anthropology from Goucher College and is an IUCN member.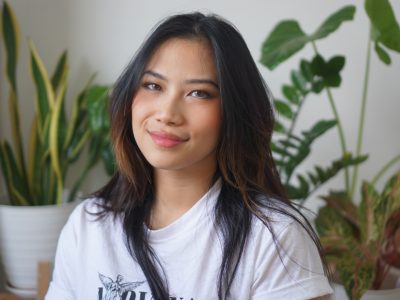 Gabriella Wina - Project Volunteer
Gabriella is a Masters student from Jakarta, Indonesia, taking her course in sustainable practice in Ōtautahi, Christchurch. She's had concerns about the environmental crisis since she was young, especially since she's always loved and valued the reef systems of her hometown. Gabriella took a few volunteer roles in grassroots organizations and worked with local communities in Indonesia on sustainability campaigns and habitat restoration programs. She has a background in marketing and communications and believes in collective action as the most effective method of restoring our planet. Now in Aotearoa, she aims to do more work in the field of marine conservation, to create real change with Blue Cradle's campaigns and projects.
We are recruiting new volunteers,for various tasks, including writing, events, media and communications. If you are interested, please get in touch at: contact@bluecradle.org
These are some of the companies we hire occasionally or regularly for different administrative, legal, accounting, film and design tasks. We highly trust them and strongly recommend their work and are grateful for their support of our organization.