In September 2021, Blue Cradle collaborated with community actors, local artists and key sponsors to create "The Ocean is in our Hands" mural at 'The Crossing', corner of Colombo & Lichfield streets, in Ōtautahi/Christchurch.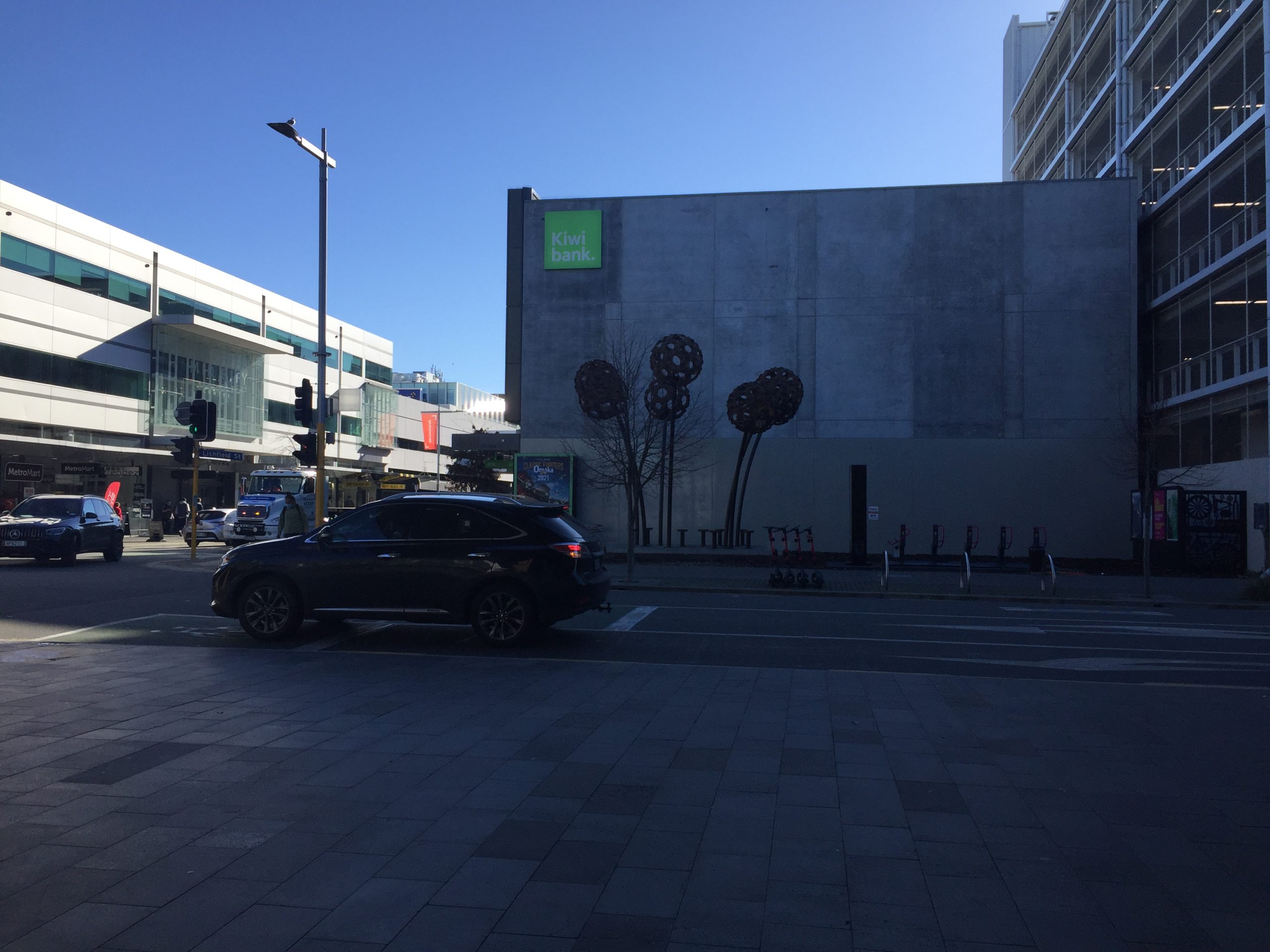 Christchurch City is truly a unique place for street art. We recognised this, and wanted to contribute our own. In September 2020, James Nikitine and mural artist Richie 'Popx' Baker had an initial conversation around making an ocean mural. A year later, and after inviting artist Olly Kade (OK Creates) to create an initial design, Blue Cradle brought together community organisations, volunteers and sponsors to make the City a lasting place for ocean awareness and stewardship.
A plaque below the art gives more information about the mural, the artists and the meaning. Installed on Friday 8th October 2021, the plaque reads:
"Every other breath we take comes from the ocean. Covering 71% of the surface of our planet, the ocean is vast, unexplored and mostly unknown. There is only one global ocean, and we are threatening its health, ecosystems and species. Climate change impacts, such as warming, acidification and deoxygenation, as well as pollution, habitat destruction and overfishing are compromising the ocean's ability to support life on our planet. We need to be responsible stewards of the ocean. Our fate is in the ocean's hands, and the ocean is in our hands."
The mural is supported by Christchurch City Council's Enliven Places Project Fund and Life in Vacant Spaces. Thank you to all our sponsors and additional thanks to Environment Canterbury, Scarlett Hydraulics and Watch this Space.
The mural and its meaning
The initial idea came from Ōtautahi/Christchurch's dynamic street art movement. Everywhere across the City and even more so since the 2010/11 earthquakes, the City's rebuild has included Art to convey meaning, activism and the community's concerns, including environmental concerns.
As a new emerging non-profit doing important environmental education work, we wanted to bring the ocean to the central City, to announce our presence but also to remind the people living here that the ocean surrounds us, that we depend on it and we need to steward it for our own survival.

An information plaque was fixed to the wall below the art work, as a permanent reminder of its message. We hope this mural inspires many, and hopefully stays as long as possible. Thank you again to all involved.
Pops considers his role to be that of the 'Social aRtivist' whose work is designed to inspire and celebrate Self and Mutual Respect in himself, in others and in our shared environment.
He was born in 1970 in Nottingham UK to an Afro-Jamaican Dad and English Mother where he first became known for his art during the mid to late 1980's as a gifted and prolific graffiti artist. 
He has been resident here in Christchurch Aotearoa NZ now for 12 years and works as a Self employed artist painting commissioned murals and canvases and has often worked with young people in various group settings including schools, Youth Justice and Care and Protection facilities. 
All while helping raise his own 3 children alongside their Christchurch born and raised Mother.
He also enjoys participating in his non-commercial arts practices of dance, poetry and song and utilises photography and film etc to record and share some of his creative endeavours via social media. 
He can be found online as Richie Pops Baker on Facebook/Messenger or email: oneluvart@yahoo.co.nz
Liv is a non-binary Christchurch based creative who has always had a passion for artistic pursuits.
Whether through painting dynamic murals, photographing the world around them or designing for the masses, they create with the intention of making an impact.
They are particularly passionate about both environmental and social injustices, and aim to work alongside these issues to bring about change. While constantly striving to hone their repertoire of skills, they are always keen to learn new crafts.
They welcome new challenges from clients and the world around them in order to offer the best service and push boundaries always.
Instagram: @OK_Creates
Photos of the progression
Days of Ice Festival children's drawing competition! - The Ocean is in YOUR hands!
A year has passed since we completed "The Ocean is in our hands" mural at the Crossing in Christchurch. This year, during the Days of Ice Festival between 29th September and 9th October 2022, we are campaigning to get tamariki/children to draw their own version of the mural, and to win prizes!
Download the template on the right of this page and follow the instructions.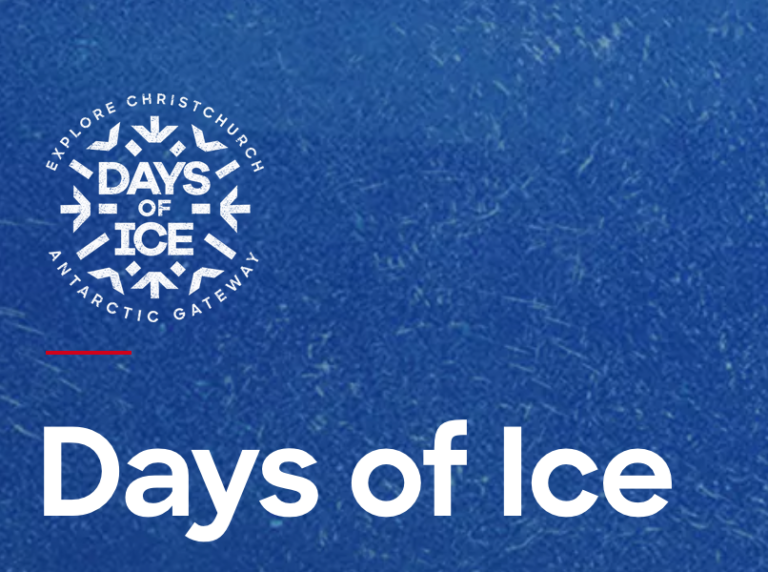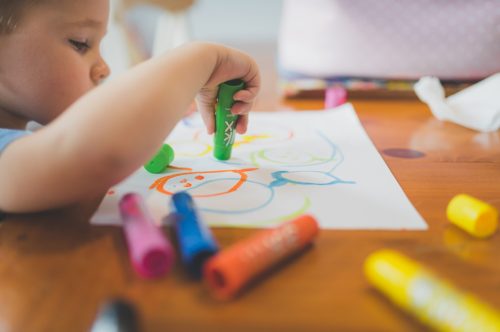 (Competition now closed.)
Prizes:

-An evening penguin tour for an adult and child at Flea Bay/Pohatu with Pohatu penguins.

-A family pass for our Akaroa Nature Cruise which is valid for two adults and up to three children with Black Cat Cruises.

-A Family Ambassador Club membership from the International Antarctic Centre.
Thanks to our judging partners and sponsors – the International Antarctic Centre, Black Cat Cruises and Pohatu Penguins.
Additional thanks to Christchurch NZ and the Christchurch Antarctic Network.
Project made possible thanks to the support of the Rātā Foundation.