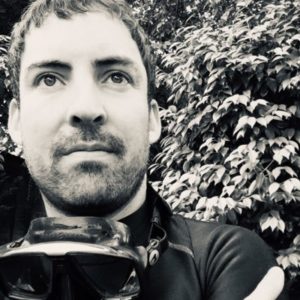 James Nikitine, Director & Chair
James Nikitine grew up on the shores of Lake Léman, in France. Of Russian and British descent, he spent his early years between the Mediterranean, the English Channel and the French Alps, a place he still holds in his heart dearly.
Despite being land-locked near Geneva, he learned how to dive in Corsica with his late father around the age of 10. James was soon influenced by the documentaries of Jacques Cousteau, Nicolas Hulot, and the films of Luc Besson and James Cameron. He subsequently chose a film education path, that he then complemented through tourism with ocean education and marine science.
He holds a Masters of Science in Marine Systems and Policies from the University of Edinburgh (UK), and a Bachelor of Arts in European Film and World Cinemas from the University of Exeter (UK).
As a marine scientist, consultant and filmmaker, his work in the last decade has been to communicate marine science and policy issues, working with the French & UK governments, the International Union for Conservation of Nature and several institutions and non-for-profits including Pew and WWF.
He founded Blue Cradle during the Covid-19 lockdown in April-June 2020.
Jocelyn Papprill, Trustee
Jocelyn Papprill is an educator for sustainability and an advocate for youth voice. She worked as a teacher for 25 years before 'jumping ship' to commit to developing educational opportunities beyond the school gate. She now works part-time for the Canterbury Regional Council [Environment Canterbury] as a Youth Engagement and Education Advisor and is also a contract facilitator for the Untouched World Foundation. Beyond work she gives her time to various environmental organisations and her local community association.
Liam Kokaua is a Māori of Rarotonga (Ngāti Arera), in the Cook Islands. Through whakapapa Liam also has ties to the low-lying atolls of Palmerston, Manihiki, Rakahanga and Tongareva, as well as the larger islands of Mangaia and Tahiti. His life is shared between Aotearoa-New Zealand and Rarotonga, and he is currently living in Tāmaki Makaurau (Auckland).
Liam was a member of the inaugural Nia Tero Indigenous Leadership Fellows program (2018-2019), and he has recently worked for a local environmental NGO, Te Ipukarea Society (TIS), on Rarotonga (2015-2019). It was at TIS where he became concerned about the threats facing Te Moana Nui a Kiwa (The Pacific Ocean), including climate change, overfishing of migratory fish stocks, and the looming potential impacts of deep-sea mining of polymetallic nodules in the Cook Islands.
In 2019 he completed a Masters of Indigenous Studies at the University of Auckland. Liam has a passion for learning Indigenous knowledge and traditions of the people of Te Moana Nui a Kiwa. He is a strong advocate for Indigenous kaitiakitanga (stewardship) of the ocean.
Katherine Short is a life-long marine conservationist. She grew up in Singapore attending the United World College of South East Asia. She remembers diving into a myriad of colourful tropical fish when she was 6 years old at Pulau Aur on the East Coast of Malaysia. To pursue her love of nature she completed a Bachelor of Ecology from Victoria of University of Wellington and a Masters of Conservation Science at Imperial College London.
Katherine spent nearly seventeen years with WWF, the conservation organization around the world including seven at WWF International, the headquarters in Switzerland. She was also an emerging Director for WWF New Zealand in 2019/2020. Understanding the complexity of marine conservation problem solving, in 2013 she co-created a unique sustainability consultancy Terra Moana with business partner Tony Craig. They are advisers to a range of clients including Moana New Zealand, the largest Māori owned seafood company as well as having led the design of a new Aotearoa National Oceans Centre and Aquarium in 2019 for Napier City Council.
Katherine is a Fellow of Leadership New Zealand and a trained Regenesis Practitioner. She has completed levels 3&4 Te Reo and is a keen potter, motorcyclist, cyclist, diver, sailor and loves being in nature. Katherine is committed to supporting initiatives where people can heal nature and in turn be healed.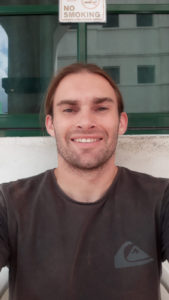 Ben Parker, Trustee (April 2020-April 2021)
Marine biologist / entrepreneur originally from Ōtautahi-Christchurch, Ben joined Blue Cradle right at the onset in April 2020. Ben Parker is the founder of Attainable Sustainable Aquaculture (ASA), a community-based aquaculture company with a focus on developing sea cucumber farming around the Pacific and Coral Triangle. ASA is the culmination of Ben's approach to solving environmental issues utilizing business and financially sustainable models, his success with developing similar aquaculture projects in Madagascar and his passion for coastal community development in harmony with the marine environment.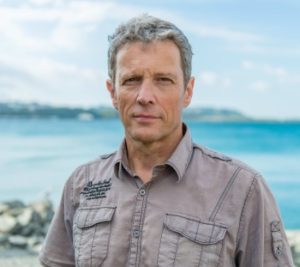 Geoffroy Lamarche, Trustee (April 2020-Nov 2021)
Geoffroy Lamarche graduated with a PhD from the University of Grenoble, in 1987, after which he undertook a post-doctoral year at Victoria University of Wellington. He returned to New Zealand in 1990 to work as a geophysicist at (the then) DSIR Geology and Geophysics. In 1992, he joined the French Institut de Recherche pour le Développment (IRD), in Nice, France to work on the first marine mapping initiative of New Zealand continental shelf and slope using multibeam technology. In 1996, he returned to France to work on the tectonic deformation in the Mediterranean Sea and Cote d'Ivoire margin.
Geoffroy joined NIWA in 1998, where he led the Marine Geological Processes and Resources programme. His research focused on the geological and tectonic processes that affect the seafloor, in particular those associated with the active plate boundary. His work considers the marine environment at large and is developed along with benthic ecologists, biologists, and physical oceanographers.
In July 2017, until Nov 2019, he was Director for the South and West Pacific Regional Data Assembly and Coordination Centre for the Nippon Foundation – GEBCO Seabed 2030 project.
Geoffroy led projects in the Southwest Pacific region, Europe, USA and Australia. He has been chief scientist on several geophysical voyages in high seas around New Zealand on New Zealand flagship R.V. Tangaroa and other foreign vessels.
Geoffroy published more than 60 articles in international peered-reviewed journals. In 2015, he was awarded a French National Order of Merit for his work toward strengthening France-New Zealand collaboration in research science.